This article originally appeared on The Journal.
"NOWADAYS, EVERY MUSICIAN is their own manager."
James Byrne has some insight into how to make it in the music business. Byrne, who is a tutor at Dublin's BIMM music college, learned how to get into the music industry the hard way. He spent years drumming for Villagers and SOAK and running his own label, Any Other City Records, and now teaches students about how to avoid the pitfalls he faced.
When it comes it to the students, I teach them the information and the stuff they need to know and relate it to my own experiences. I think they find it very helpful. It's almost teaching them the mistakes you made.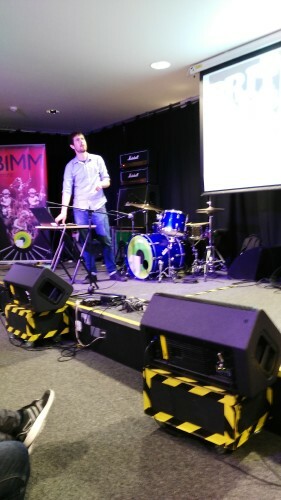 James Byrne giving a presentation to prospective CIPD students of BIMM Source: Liz O'Malley
Being hands-on and practical is important for students attending BIMM, Ireland's only music-focussed college, who learn all about the industry from tutors such as singer-songwriter Cathy Davey; Conor Adams, the guitarist and vocalist in The Cast of Cheers; Dave Geraghty, the guitarist for Bell X1; Kieran McGuinness and Ronan Yourell from Delorentos; Louise Macnamara, one of the Heathers duo; and Mick Tierney, singer and songwriter with Republic of Loose.
Continue reading "There's a real life School of Rock in Dublin city centre"