This article originally appeared on The Journal.
"NOWADAYS, EVERY MUSICIAN is their own manager."
James Byrne has some insight into how to make it in the music business. Byrne, who is a tutor at Dublin's BIMM music college, learned how to get into the music industry the hard way. He spent years drumming for Villagers and SOAK and running his own label, Any Other City Records, and now teaches students about how to avoid the pitfalls he faced.
When it comes it to the students, I teach them the information and the stuff they need to know and relate it to my own experiences. I think they find it very helpful. It's almost teaching them the mistakes you made.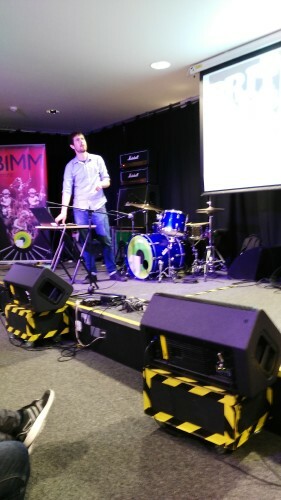 James Byrne giving a presentation to prospective CIPD students of BIMM Source: Liz O'Malley
Being hands-on and practical is important for students attending BIMM, Ireland's only music-focussed college, who learn all about the industry from tutors such as singer-songwriter Cathy Davey; Conor Adams, the guitarist and vocalist in The Cast of Cheers; Dave Geraghty, the guitarist for Bell X1; Kieran McGuinness and Ronan Yourell from Delorentos; Louise Macnamara, one of the Heathers duo; and Mick Tierney, singer and songwriter with Republic of Loose.
BIMM opened its campus on Francis Street in Dublin city five years ago – it has four locations across England and one in Berlin, with graduates including James Bay, George Ezra and Tom Odell – and has had two graduating classes from its Dublin classes so far.
Students can study either a one-year course or four-year degree courses, accredited by DIT.
So what's it all about?
Students David Fitzharris and Ed Phelan recording in the studio with songwriting tutor Stephen O'Brien Source: Liz O'Malley
Ruth Cronin, 20, is about to head into the third year of her degree. Her courses in second year included acoustic performance, band performance, music in context, arrangement analysis, music theory and music business.
The tutors emphasise that the course aims not only to help students get better at their craft, but to teach them the theory behind music. One of the modules is 'styles', where students are taught how to play a different style of music every week.
In the first and second year of the degree course students focus on their instrument. The third year is more academic and features a lot of essay writing. The focus in the fourth year is the thesis.
There are also extra learning opportunities outside of class. The college has a tutorial system, where students can sign up to talk to any of the tutors for 20 minutes at a time. Vocal tutor Shelley Bukspan says that often she'll have students signing up outside of her stream to speak to her about how to handle nerves.
The college does almost weekly master-classes. Previous speakers have included Lisa Hannigan, Hozier, Imelda May, Danny from The Script, and people from record labels.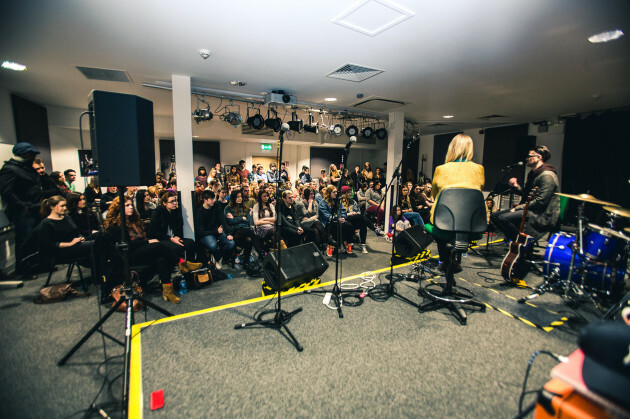 Danny O'Donaghue from the Script giving a master class Source: BIMM
The best part of the course according to Ruth? "All the tutors are great; they have a lot of experience, obviously."
What do students get out of it?
Tutor James Byrne argues a course like this is important because it gives students the tools they need to make it as a musician, rather than just expecting them to learn it as they go along.
They have a really solid degree, four years good experience, lots of contacts … We can't point to 40 or 50 graduates and say they're all hugely successful, but they're definitely in a much better position after four years here. After four years you have a better idea of the roadmap and know how the industry works.
Students also have opportunities to get their work out there. They can audition six times a year for the live gigs that the college puts on, and they can submit their original material to get on the annual BIMM album at the end of the year, which only features 12-13 songs.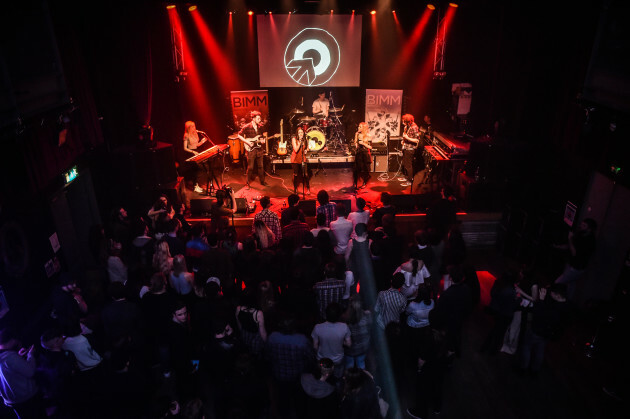 BIMM End of Year Show 2015 Source: Ruth Medjber/BIMM
Showcases for labels are set up, and the agencies and labels will sometimes come to the college for recommendations for people to play gigs or sessions.
Hard work
Bass tutor Paul Moore says the course requires a lot of hard work.
It's just like any job – you need to be working on your instrument eight hours a day.
When he told his father he wanted to play bass as a career, his father said: "That's fine, as long as you get up at 8, go to work at 9 and come home at 5.30 or the equivalent hours."
All the tutors agree that one of the most important things about being a successful musician is work ethic.
"It's not enough to be talented," James says. "That will only get your foot in the door. But you have to be great and a professional, and show up on time."
Even then there is no guarantee that graduates will get jobs. But James says they will be much better off than if they hadn't done the course.
Some of the students who have done well since leaving BIMM are Craig Fitzgerald, who's in The Academic; Jessy Rose from Hare Squead; John Doherty and Ryan McCloskey in Little Hours, and two recent graduates, Joe and Theo, who have joined James Vincent McMorrow's band.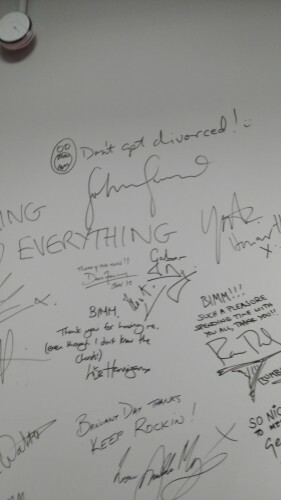 Musicians who come to BIMM sign this wall Source: Liz O'Malley
The fact that all the people in the success stories were male (bar Theo) seems to be reflective of the population of the college.
Men make up the majority of courses. The exceptions are vocals, which is majority female, and song-writing, which is split down the middle.
Dara Kilkenny, the executive principal of BIMM Dublin, says the college is trying to increase the number of women taking part in the instrumental courses.
We traditionally get a huge amount (of women) in vocals, but I'm always very excited and very encouraging of women to come along and get involved. I'd love to see more female drummers, I'd love to see more female bass players and guitarists. It's a slight frustration because there's a lot of work for women in the industry.
Getting in
To get into the degree course, students must perform auditions or submit portfolios and apply through the CAO system. For the diploma course, BIMM held one day of open auditions a year. The auditions for next year's course were held on Wednesday.
Some of those auditioning signed up in advance while others just appeared on the day. Siobhán Killen, recruitment and marketing assistant at BIMM, says the common thread between all those auditioning was nerves.
"There were very nervous people; they couldn't talk they were so nervous. They said it was like standing there naked."
Vocal tutor Shelley Bukspan says it doesn't matter if people's voices wobble a little during their audition, that's expected. What they hope to find is a glimmer, something that shows potential.
Dara Kilkenny says that the college is looking for a certain level of ability.
"We want to take musicians who already know how to play and turn them into artists."